THE CLEAR SKIN SUPERCHARGED SERUM (Coming soon)
Nigella & Bakuchiol
30 ml  /  1.01 FL OZ
Combination to oily skin
Prevents, reduces and corrects blemishes
Targets pimples, blackheads, and large pores
Reduces acne marks
Non-greasy effect
100% natural origin
Free of essential oils and perfumes
Vegan, not tested on animals 

Proven effectiveness
Security policy
(edit with the Customer Reassurance module)
Delivery policy
(edit with the Customer Reassurance module)
Return policy
(edit with the Customer Reassurance module)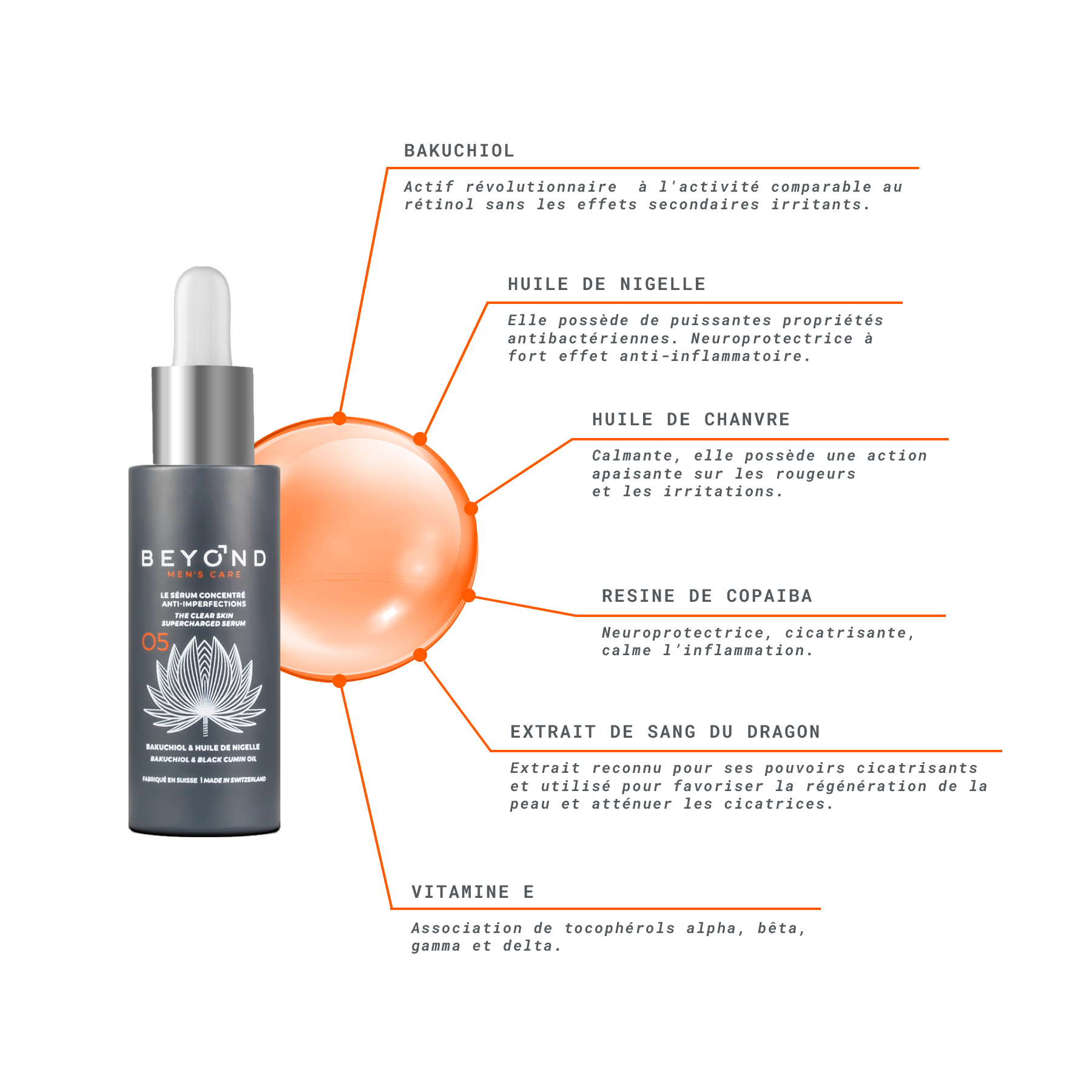 Our expert anti-blemish concentrate is essential for your combination to oily skin.
Its formula, enriched with Bakuchiol, an exceptional plant alternative to retinol, precisely and deeply targets all types of lesions: blackheads, pimples, dilated pores, and acne marks.
Its high concentration of Bakuchiol, stimulates collagen and elastin to reduce imperfections and even out the complexion..
Biotechnological actives reinforce the purifying and antibacterial action. Thanks to their biomimetic and anti-inflammatory activity, they help reconstitute the skin's protective barrier to maintain hydration and soothe discomfort.
A fine, light texture that does not clog pores or leave an oily finish.
Product Reviews / Q&A
Average rating
5.0
1 Review
Reviews (1)

All reviews (1)
Has image/video (0)
Excellent (1)
Good (0)
Medium (0)
Poor (0)
Terrible (0)

Latest
Oldest
High rating
Low rating
Helpful
View more -4 review
There are no available reviews. Write your review.
View more -5 question
There are no available questions. Ask your question.
Write your review
You are only allowed to leave 1 review(s) for this product
Review submitted
Your review has been submitted and will be published once approved by a store admin.
Your review cannot be submitted
Question sent
Your question has been submitted and will be published once approved by a store admin.
Your question cannot be sent
Your review appreciation cannot be sent
Report comment
Are you sure that you want to report this comment?
Report sent
Your report has been submitted
Your report cannot be sent
Congratulation! You get a discount code from us
You may also be interested in these products...